Russell Inspections Services, Your New Hampshire Home Inspector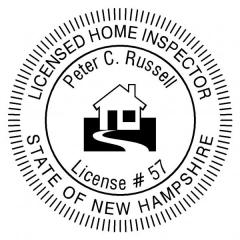 My name is Peter Russell, and I have completed many different types of inspections over the past 31 years I have been inspecting here in New Hampshire. I have conducted thousands of home inspections, and I continue to refine my process to provide you with the best home inspection possible. Every inch of the property is inspected including all structural, electrical, air conditioning/ heating system and plumbing. We make clear any item that is an issue and work hard to make sure you understand it. We provide quality color photos with every home inspection report. You will understand every item by the time we are finished.
For more than three decades I have provided honest, objective, and thorough inspections in New Hampshire. From the first contact with me through the inspection delivery and explanation of your report, you will experience the ultimate in professionalism. I am also a recognized expert in the NH court Court System as an expert witness for construction litigation cases and I regularly work with area attorney's on construction litigation cases.
If you are looking for any kind of home inspection services, please contact me and I will be happy to give you any information you need to make an informed decision.  Thousands of happy clients throughout NH have hired us for their home inspection, thermal imaging inspection, and septic inspection. Thank you, and I look forward to hearing from you!
Home Inspection Services
Russell Inspection Services offers a full system of home inspection services to both residential and commercial buildings throughout New Hampshire and Southern Maine.
My professional home inspection will identify the overall condition of the home and it's major components. I will point out any defects as well as the positive aspects of the property.
Russell Inspection Services is dedicated to conducting a prompt, objective inspection in a professional and courteous manner.
Russell Inspection Services delivers an unbiased, professional, and comprehensive computer generated home inspection report complete with photographs. Each inspection requires 2-3 hours to complete on average. We encourage all of our clients to be present during your home inspection. This provides for an increased understanding of the evaluation, as well as the opportunity to ask any questions you may have.
Russell Inspection Services conforms to the State of New Hampshire standards and guidelines, and we have been a leader in those standards for many years. My home inspections are conducted using the latest expert equipment and techniques to ensure compliance in accordance with New Hampshire's standards of practice and code of ethics.
Professional Associations
I am a member in good standing of the following Organizations.
International Association of Certified Home Inspectors
National Association of Commercial Building Inspectors
Infrared Training Center